JUST A FEW OF THECHARACTERS

Nelda Nockbladder, described by some as "Brave!" and by others as "Iffy." Despite her mild appearance, she can spit red hot flaming custard, and her aim is true.

Blue Plate Greelynob, Nelda's nemesis. Grangle flibb spooter muck greely!

PigZap, mostly harmless, but occasionally deadly. Strongly attracted to moldy moth wings.

Kanga What? Nelda's sometimes-sidekick, who has a tendency to get in the way.

Antigrope, who does not do a heck of a lot, but fits in rather well.
| | | |
| --- | --- | --- |
| WEEBLITZ! | | WEEBLITZ! |
A GAME OF SKILL, LUCK, AND GARNOSSITY.
Version 1.0 - 3/97
ALERT!
It's been ten years, so in honor of this, and because of the foongazzles, we are offering the complete help file, with all the cheat codes, tips, etc., for only ONE MOUSE CLICK! Just download and overwrite the existing help file.
Formerly, you had to register the game to get this, and you still can, and send me money, even! But, for that matter, kreezum pot froop!
---
GAZORKENBLATT!

---
TECHNICAL GREEBLESNUCK
Nelda Nockbladder's Anatomy Lesson runs on Windows 3.x and Windows 95. Requires at least a 486 66MHz 8MB RAM. Pentium recommended. 256 colors. Sound card required for music and noises. Note: Includes many words, terms, and phrases that are required for compatibility with applications distributed on the Planet Weeboo, for example, garnossity, or weeblitz. Zipped file size: 1.8 MB. Unzipped: 5MB.
LATE-BREAKING NEWS: Some systems with the above requirements have experienced difficulties running Nelda. On the other hand, some haven't. Many factors are involved, including CPU, video drivers, RAM, and mumscratz-garpoodgiter flum. We suspect that the true minimum requirement is 16MB RAM.
EVEN LATER BREAKING NEWS: Several people report problems running Nelda on a Windows 3.1 system. A workaround has been discovered: Get Windows 95. Har! No, really, the workaround is to turn off the sound and the music.
TIP See the Nelda Nockbladder online help for information on cheat codes, passwords, tips, and other bugwartle muck.
---
THE STORY
While exercising at the local mortuary, Nelda attempts to teleport down to the snack bar, but a wrinkle develops in Neldaspace... your job is to navigate Nelda through the twisted paths of a corrupted Neldaspace, heavily polluted with antagonistic body parts, such as the skull shown below. A successful venture will land Nelda safely at the snack bar.
---
A SCREENSHOT FUGNOSSITY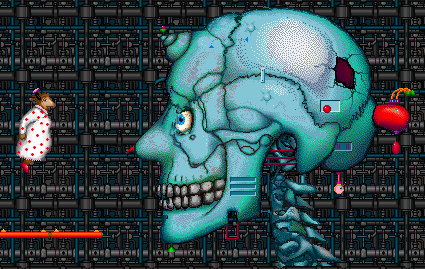 CLICK HERE FOR MORE SCREENSHOTS
---
MORE INFORMATION
For more information about Nelda Nockbladder's Anatomy Lesson, write to Scott Miller.
---
LONKERS VON BEEZLEDORF
Nelda Nockbladder's Anatomy Lesson was created with Corel Click and Create.
Nelda Nockbladder's Anatomy Lesson is Copyright Scott Miller. Download and use at your own risk. We take no responsibility for anything that might happen as a result of using Nelda Nockbladder's anatomy Lesson. And so on.
---